Are you wondering how to eat more vegetables while saving time and money in the kitchen? Then it is time to learn how to cook frozen vegetables. This essential guide will teach you just that!
As a registered dietitian and chef that helps people transition to plant-based diets, I wrote this comprehensive guide about how to cook frozen vegetables because I know it can sometimes feel overwhelming when trying to eat more plant- based foods.
We will cover the benefits of cooking frozen vegetables, how to shop for frozen vegetables, how to add flavor to frozen vegetables, what to serve with frozen vegetables, cooking tips and the best part– recipes created by registered dietitians showing you simple and nourishing ways to use frozen vegetables.
Interested in learning more about plant-based diets and how I can help you transition to eating more plants with joy and simplicity? Then grab a copy of my Plant-Forward Meal Prep Made Easy Guide.
As a reminder, I am a dietitian but I'm not your dietitian. This article is for informational and educational purposes only.
Benefits of eating frozen vegetables
All the nutrition of fresh vegetables
There is a misconception that "fresh is best." However, frozen vegetables have just as much nutrition to offer as their fresh counterparts.
Nutritional composition depends on the vegetable but in general, frozen vegetables are:
Low in sodium
Good sources of fiber
Rich in minerals like calcium, magnesium and potassium and vitamins like A,C,E, K and B-vitamins.
Frozen vegetables are a great addition to a plant-forward diet because they offer all the benefits of eating fresh vegetables.
Reduce food waste
Frozen vegetables can help mitigate food waste in your kitchen because they keep much longer than fresh vegetables.
Check the sell-by dates on the packaging and follow instructions. Typically frozen vegetables are "good" for at least six months after purchase. Make sure to keep them sealed to help prevent freezer burn and off-flavors.
Experiment with new vegetables.
Opting for a frozen variety of a vegetable you want to experiment with is a great way to try new plant-based foods. Perhaps the vegetable is hard to peel or you don't know to season it with, then try the frozen version instead!
Cook for one or two people with ease.
If you are only cooking for yourself or just one other person, you may end up having to buy more fresh produce than you actually need.
This is not only expensive but also could lead to unintentional food waste. But using frozen vegetables and only defrosting what you need is a great way to save money and cook small batches.
Enjoy out-of-season flavors.
Feel like butternut squash in July or cherries in November? Then shop in the frozen section and don't miss out on the flavors you are craving.
Save time in the kitchen.
Some nights you just don't have time to wash, peel and chop. That's where frozen vegetables can come in handy. All the prep work is done for you. Plus, frozen veggies are typically par-cooked so they will cook quicker than raw vegetables.
Save money on your grocery bill.
The opportunity for less food waste and shopping during sales makes frozen vegetables an affordable option.
The direct savings between raw, fresh vegetables and frozen vegetables are a little hard to calculate because it depends on region, season and current pricing. But I suspect they would end up being less expensive.
Reduce the effort it takes to cook.
If you (or someone you care for) struggles with chopping and peeling vegetables due to arthritis or another chronic condition, then frozen vegetables are a great solution.
No fancy equipment needed.
Cooking in a college dorm with only a microwave? Not great with a chef's knife? Then frozen veggies are perfect for you!
What goes well with frozen vegetables?
Now that we know that frozen vegetables have many health, time-saving and money-saving benefits, let's talk about what you can do with them in the kitchen!
Frozen vegetables can be used in most places where fresh vegetables can be used, with a couple of exceptions. Here are some ideas to get you thinking about how to cook frozen vegetables.
Pair with proteins like meat, seafood or tofu for a complete meal.
Toss with pasta for a plant-forward meal
Put on top of pizza
Puree with frozen fruit for a smoothie
Pulse with beans for a flavored hummus or bean-dip
Add into stir-fries
Combine with potatoes for breakfast hashes
Bake into pancake, muffin or biscuits
Use in vegetarian entrees and casseroles like shepherd's pie and spanikopita
Stir into soups, chilis and stews
Different types of frozen vegetables
Frozen vegetables are simply vegetables that have been partially cooked and then frozen very quickly.
Frozen vegetables can be found as a single vegetable (like a bag of frozen peas) or as part of a blend with other frozen vegetables aka "mixed vegetables". There are also frozen vegetables that are combined with grains and sauces.
You can find frozen vegetables pureed, chopped, whole, riced and even spiralized.
The selection and variety will depend on your grocery store, but you can likely find any vegetable you desire in frozen form. This includes:
Starchy vegetables like peas and corn
Root vegetables like cassava, carrots and rutabaga
Squash like butternut and zucchini
Aromatics like pepper, onions, ginger and garlic
Hearty greens like spinach, collard greens and mustard greens
How to shop for frozen vegetables
Now that your mouth is watering, let's cover some tips for shopping for frozen vegetables.
Store brand versus name brand. I almost always reach for store brand frozen vegetables because they are less expensive than name-brand frozen vegetables.
Organic versus conventional. Organic food can be a controversial topic but remember that organic produce is not healthier for you from a nutrition perspective.
Seasoned versus unseasoned. If you are following a special diet like gluten-free, vegan or low-sodium, be sure to check the nutrition label for ingredients in the seasoning/sauce that may not align with your dietary goals.
If there are other considerations you have when shopping, be sure to talk to your dietitian.
How to cook frozen vegetables without them getting soggy
One of the biggest mistakes people make when cooking with frozen vegetables is boiling them.
Cooking with high heat and as little liquid as possible is the best way to avoid sogginess when cooking frozen vegetables.
Sauteeing: quickly cooking the frozen vegetable in oil over high heat in a skillet.
Steaming or blanching: quickly cooking frozen vegetables with steam. Blanching involves stopping the cooking process by plunging the vegetables into ice water.
Roasting: tossing the vegetables with oil, placing on a sheet pan and baking in a hot oven of at least 400 degrees Fahrenheit.
Air-frying: air-frying is convection cooking in which food gets crispy without a lot of oil.
Microwaving: microwaving frozen vegetables in a small amount of water or other cooking liquid (like broth) is the simplest way to cook frozen vegetables
Pureeing: blending frozen vegetables into smoothies, dips and soups is a great way to use them.
Let's address a couple other questions you may have related to how to cook frozen vegetables.
Should frozen vegetables be thawed before using?
It is generally best not to thaw frozen vegetables before cooking, unless the recipe specifies or you are pureeing the vegetable.
When should you add frozen vegetables in the cooking process?
Many recipes will specify adding the frozen vegetables toward the end of cooking to avoid overcooking.
How to make frozen vegetables taste good
Besides the cooking method like we discussed above, how you season frozen vegetables when cooking can make a big difference.
When considering how to cook frozen vegetables, it is important to keep flavor and texture in mind. Consider salty, creamy, smoky, crunchy, fresh, sweet, sour and umami.
Frozen vegetables do not need fancy ingredients to become flavorful. Here are some ideas for adding flavor to your frozen vegetables.
Herbs and spices
Fresh herbs like basil, cilantro, parsley and dill
Dried herbs like thyme and oregano
Zest from lemon, lime or orange
Minced or grated garlic
Fresh ginger
Spices like paprika, turmeric, cumin, coriander, chili powder and curry powder
Salt and pepper
Fat and oils
Butter
Olive oil
Sesame oil
Nut oils like walnut
Infused oils (homemade or from specialty markets)
Parmesan cheese
Sauces
Soy sauce
Oyster sauce
Fish sauce
Coconut milk
Miso paste
Harissa
Tahini
Nut butters like peanut butter and almond butter
Pesto
Olive tapenade
Hot sauce
Sweet
Brown sugar
Maple syrup
Honey
Molasses
Crunchy
Chopped nuts
Toasted bread crumbs
Crushed-up crackers or croutons
The sky is the limit as far as flavor ideas. I'd love to see what you are making. Post a photo of your frozen veggie dish and tag me on Instagram @gozzi_nutrition.
How do you store frozen vegetables after they've been cooked?
Cool leftover frozen vegetables to room temperature and package in an air-tight container. Cooked frozen vegetables are likely safe to eat up to 3 days after cooking.
Recipes featuring frozen vegetables from registered dietitians
Alright, here's the part you've been waiting for! Delicious, easy and nutritious recipes created by registered dietitians featuring frozen vegetables.
Sweet Potato Nachos with Frozen Corn
Black beans, frozen corn, and avocado make Sweet Potato Nachos simple and easy. Healthy nachos are good to the last little bean. No chip required!
Check out this recipe
Roasted Brussel Sprouts with Frozen Brussel Sprouts
Roasted Brussel sprouts are one of the easiest ways to serve up these nutrient-packed little jewels. This recipe shows you how to roast frozen vegetables.
Check out this recipe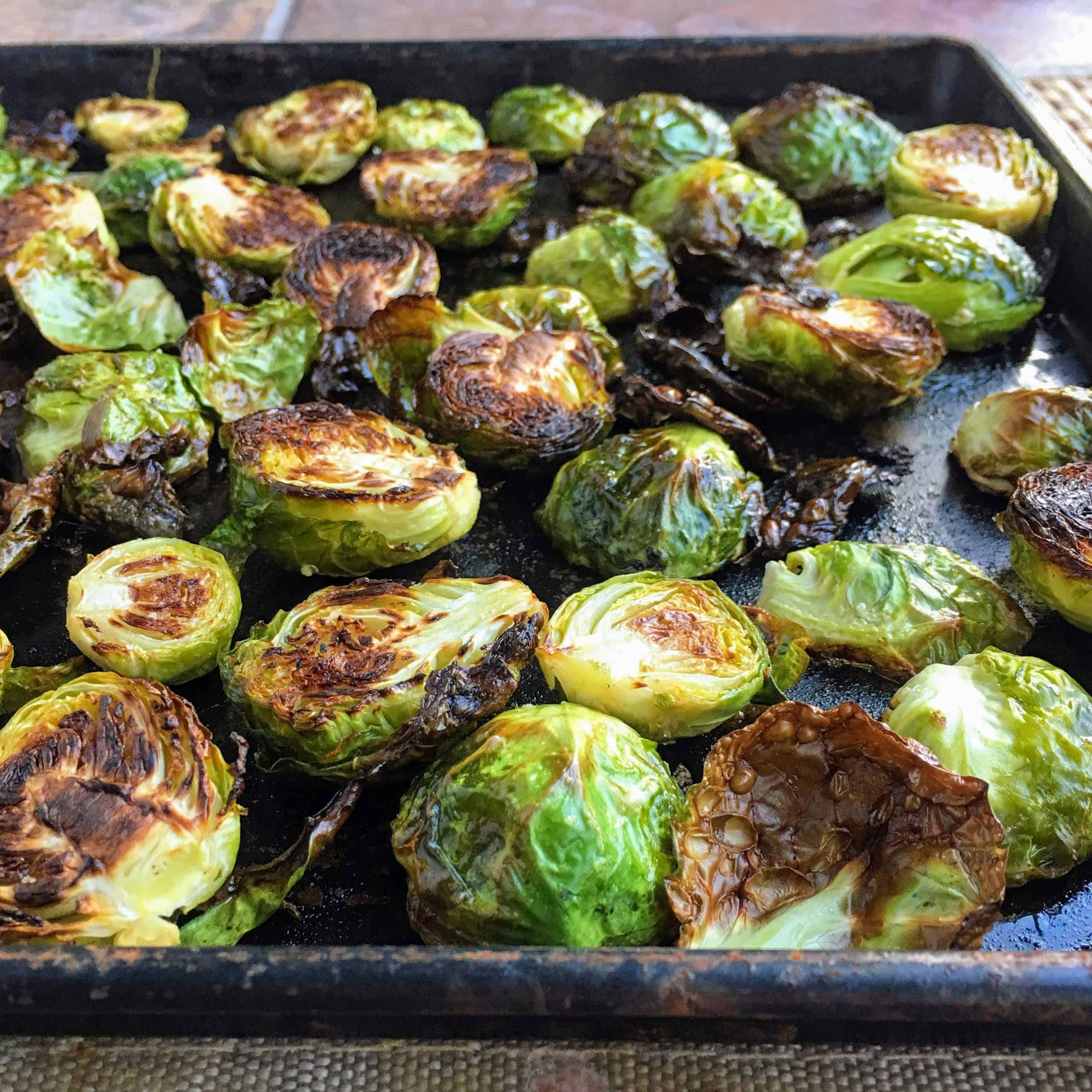 How to make Old-Fashioned Chicken Vegetable Soup with Frozen Corn and Broccoli
Healthy Old-Fashioned Chicken Vegetable Soup is comforting and hearty. A good recipe anytime, but especially when you're sick. This recipe uses frozen corn and frozen broccoli.
Check out this recipe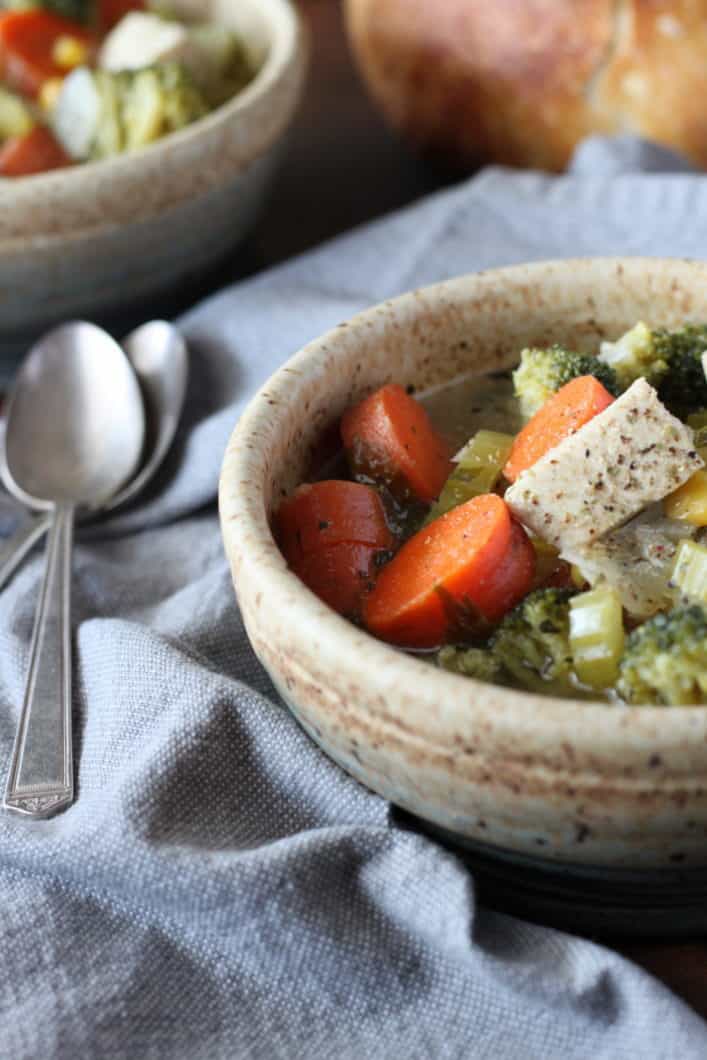 Simple Spaghetti with Frozen Peas, Garlic and Parmesan
Just a few simple ingredients gets you a luxurious carbonara-like spaghetti dish with olive oil, garlic, spring peas, Parmesan and lemon.
Check out this recipe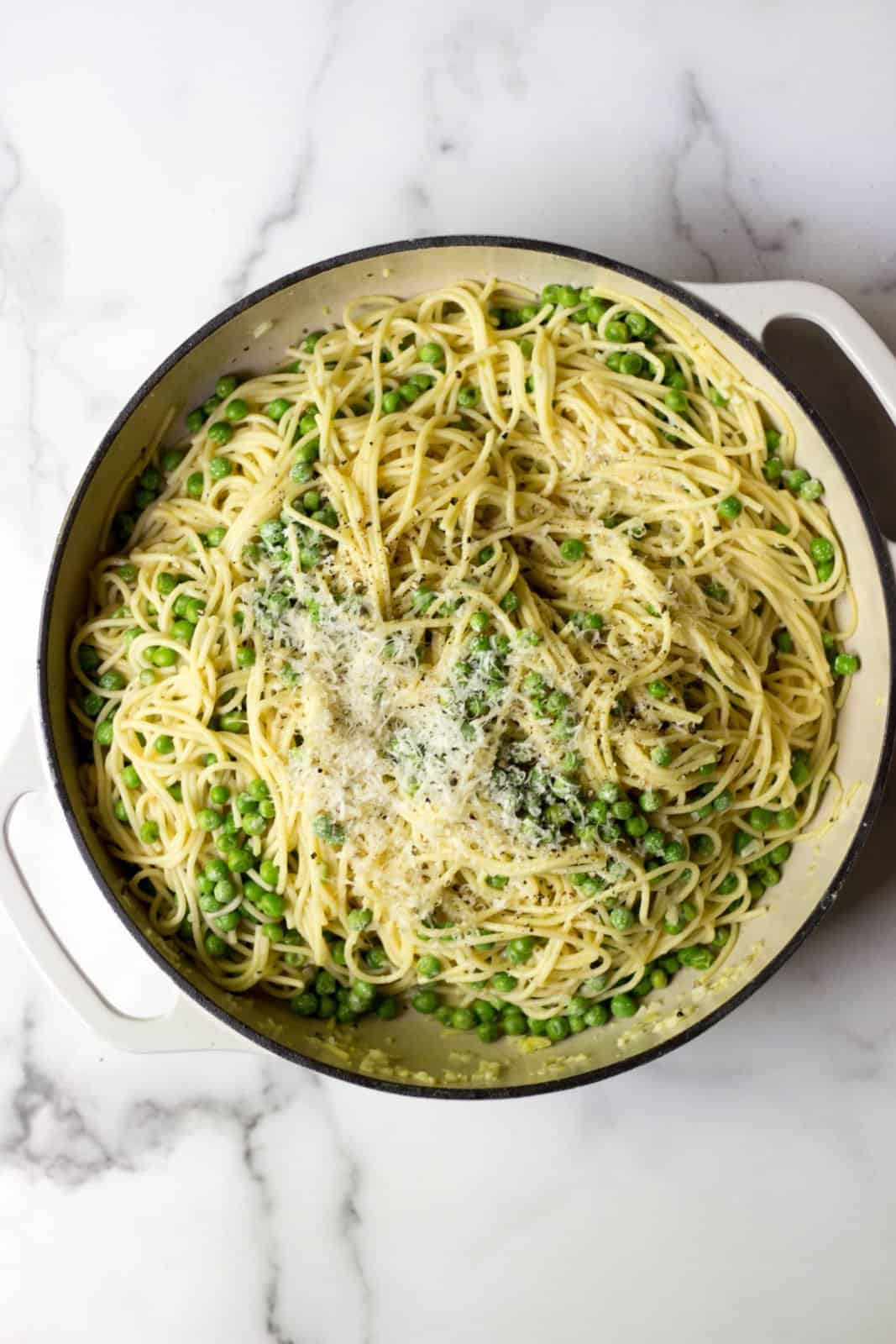 Air Fryer Frozen Brussels Sprouts
Air fry your frozen Brussels sprouts at 400 degrees and for crispy, perfectly caramelized veggies without the bitter taste in under 20min.
Check out this recipe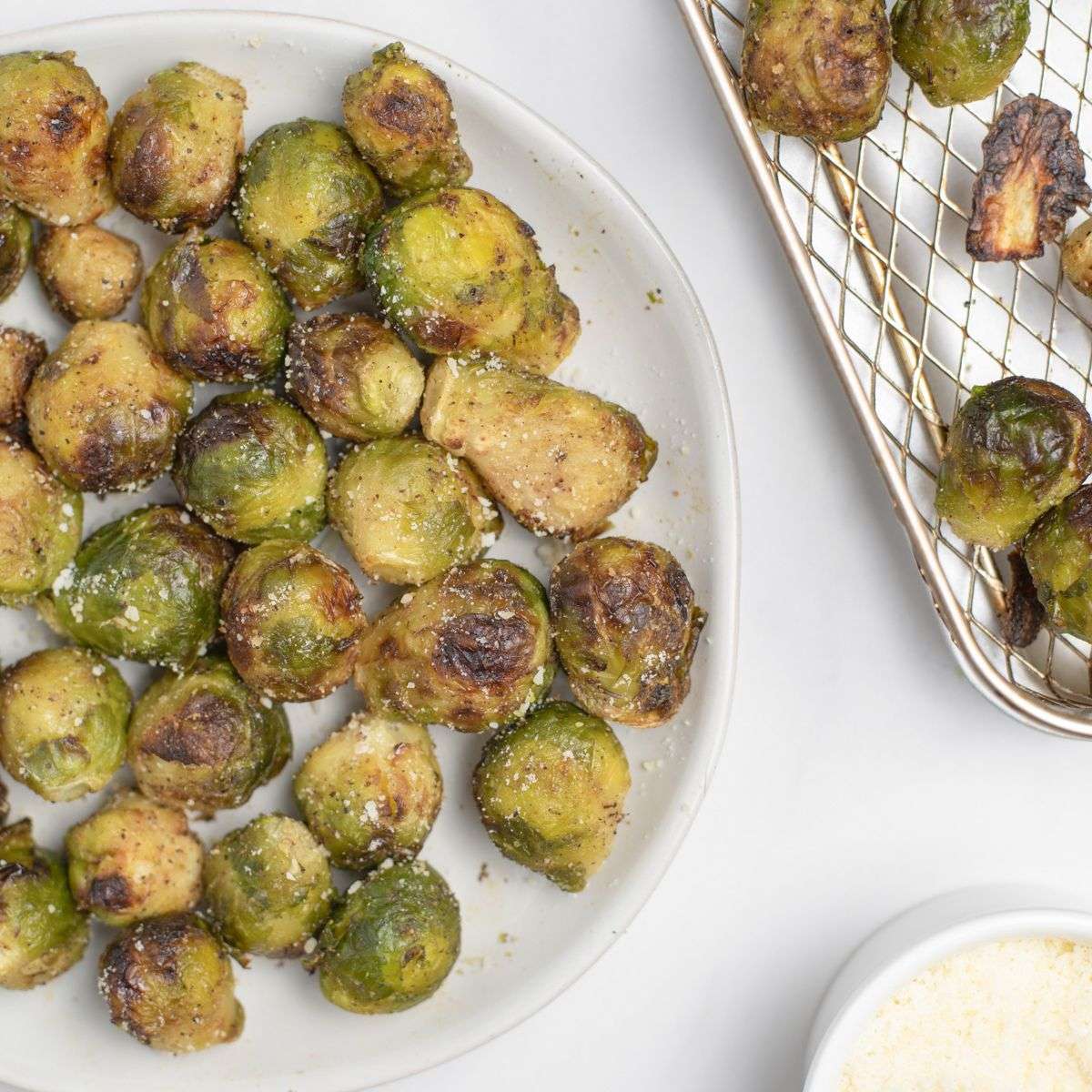 Frozen Veggie Orzo Pasta
This vegan veggie orzo pasta is great for busy weeknights! Made with frozen vegetables and orzo pasta in a simple tomato broth.
Check out this recipe
20 Minute Honey Garlic Shrimp and Frozen Broccoli
This 20 minute honey garlic shrimp recipe is easy quick and tasty. Sheet pan shrimp has never tasted better!
Check out this recipe
Chicken Apple Sausage Sheet Pan Dinner with Frozen Mixed Veggies
This super simple chicken apple sausage sheet pan dinner pairs with a starch and frozen veggies.
Check out this recipe
Air Fryer Frozen Green Beans
This posts walks you through how to make frozen green beans in the air fryer in under 15 minutes. Simpler than you could imagine!
Check out this recipe
Final Thoughts
Frozen vegetables are a great option for anyone looking for healthy meals that are affordable, budget-friendly and time-efficient. Once you understand how to cook frozen vegetables, you will see endless possibilities to add them your weeknight meals.
Are you struggling with meal planning? I've got you covered. Grab my FREE Plant-Forward Meal Prep Made Easy Guide. This guide not only teaches you my proven Four C's Meal Planning Strategy, but it also includes a four-week plant based meal plan.